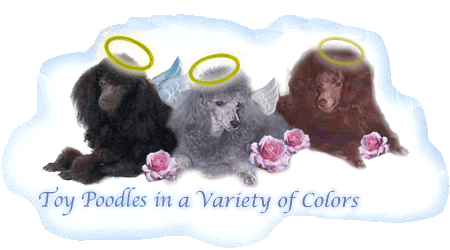 Hi, my name is Angela and I am a responsible breeder of toy poodles. I am located in East Central IL. I breed to get show quality poodles that conform to the AKC standard for poodles. I have my dogs Optigen tested for PRA and have been blessed with all clear/normal results. I have just started to show some of my puppies in the Bred By class for fun. I have a very limited number of dogs so I have time to enjoy them. I breed toy poodles because I love poodles. Poodles are very intelligent & fun-loving breed. They are also a low-dander dog and do not shed, so most people that have asthma, like myself, or that have allergies can be around poodles and not have any problems with their asthma or allergies. I personally love this, since they are also my pets.
There are lots of photo's of my dogs past and present on my site that I hope you take the time to look at and enjoy. I don't always have puppies available, but when I do I will post them on my "What's Available" page. Please do not inquire for a puppy for breeding if you are not a resposible breeder. I will not sell puppies to Puppy Millers or people just wanting to get into breeding to make a buck.
Crate pads/dog beds and belly bands now available.
for more info and pictures go to my Available page.
ALL pet puppies are sold on a spay/neuter agreement and limited registration. I also require that all puppies old enough to be spay/neutered to be so before they leave to go to their new homes. I can be contacted by email or phone if you have any questions
© 2004, 2005, 2006, 2007 AngelBells Poodles